FEATURES
Samsung Multifunction - MultiXpress K2200ND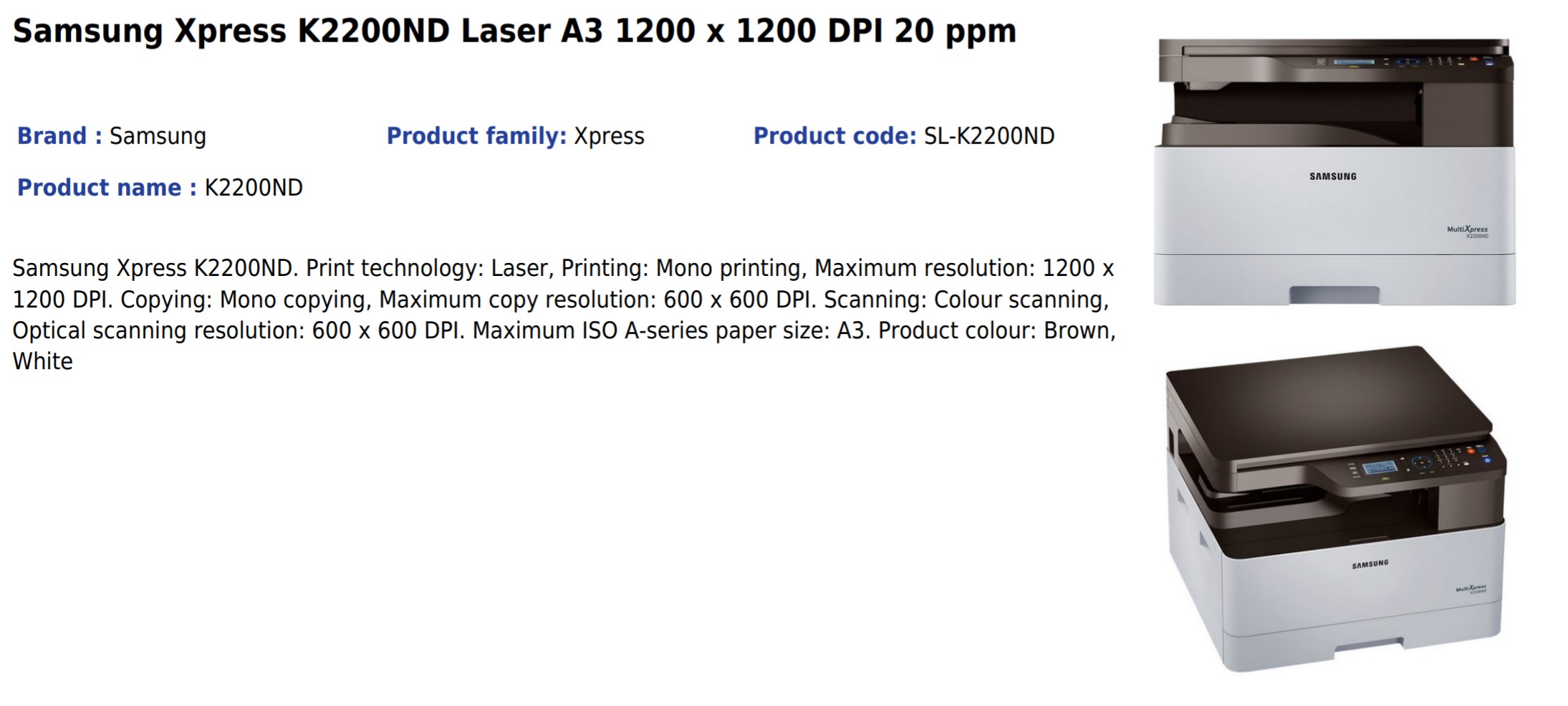 Product Configuration
3-in-1 Multifunction
With 3-in-1 versatility, the Samsung MultiXpess K2200ND MFP streamlines workflow and ensures that your office's printing needs are running as efficiently as possible. With printing, copying and scanning functionality, the K2200ND offers flexibility without barriers. A host of innovative features like ID Copy, N-up copy and Scan-to-email equip you with the necessary functionality needed to thrive in the fast-paced world of business.
Exceptional Standard Features And Options For Increased Versatility
Change how your office uses the printer by taking advantage of robust standard features and additional optional features. The K2200ND has your favourite key features including remote printing and duplex printing. Optional features like reverse automatic document feeder (RADF) and a second cassette feeder (SCF) make printing even more efficient.
Remote (Network) Printing
Connect the printer to a network to print form other PCs under the same network
Duplex Printing
Reduce paper use by printing two-sided documents.
Increase Your Capacity While Lowering The Costs
Achieve high-volume printing with a lower cost per page with the K2200ND. Print up to 10,000 pages with a single toner cartridge and up to 80,000 pages per imaging unit.
Fast Printing Speed And Direct Scanning
A Faster Printer Means A Faster Workflow
The Samsung MultiXpress K2200ND is equipped with a 600MHz processor and 128MB memory to print 20 pages per minute.
Direct-to-PC Colour Scanning
Send full-colour documents directly to a coworker's PC for more a efficient and streamlined workflow. Direct-to-PC scanning even supports the production of multipage PDF files.
Brilliant Text & Image Quality For Your Documents
The K2200ND prints and scans your text and images in brilliant quality. The 1200 x 1200dpi is achieved by varying the dots size and the position of the dot itself. This means you can print in more detail for a smoother and sharper image.
Easy Eco Driver
Save up to 20 percent on printer toner with Samsung's Easy Eco Driver. This useful software also reduces paper and energy consumption by giving users the option to remove unnecessary text and images, converting them from bitmap to sketches. The Easy Eco Driver is the recipient of the 2012 Outstanding Achievement in Innovation Award from Buyers Labouratory (BLI).
Easy Solution Support
The printer also comes with software support designed to put you in control of achieving quality printouts with more ease.
Easy Printer Manager
Remotely control printer settings and easily monitor its status with the Easy Printer Manager.
Easy Document Creator
Easy Document Creator helps you create digital documents in multiple formats and makes it easy to share them with others—via email, fax or social networking sites.
Ergonomic Design
Don't worry about this printer crowding your space. Its compact and tasteful design makes it a pleasant collabourator.
RADF & SCF (Optional)
RADF (Reverse Automatic Document Feeder)
RADF (Reverse Automatic Document Feeder) Print multiple double-sided pages without manually flipping pages over. Load up to 100 pages for effortless copying.
SCF (Second Cassette Feeder)
Holds up to 250 sheets of additional paper, including labels and oversized paper.